According to multiple reports, AC Milan directors Paolo Maldini and Frederic Massara should soon renew their deals with the club. The aim for the higher management is to let them continue their work and build a winning team that stays at the top of Italy and even compete at a higher level in Champions League.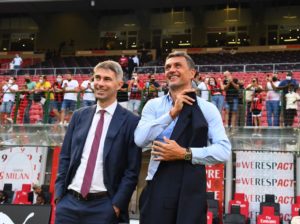 According to what is reported by Corriere dello Sport, the official announcement for the contract extension for the two directors should arrive by the end of this week.
RedBird's boss, Gerry Cardinale, who will not return from America in the short term, will not be dealing personally with the two negotiations. Instead, Ivan Gazidis with Elliott Management will be taking of the negotiations. But, Gerry Cardinale's meeting with Paolo Maldini was fundamental to convince him to stay. Once their deals are renewed, AC Milan bosses Paolo Maldini and Frederic Massara will be then looking at the transfer market opportunities and deals to finalise.