Off the back of an unprecedented Scudetto winning campaign, Paolo Maldini and Federic Massara set out last summer to bolster the squad for a legitimate title defence the best way they could with a limited operating budget.
By all accounts, the market was an utter disaster, with top signing Charles De Ketelaere and free transfer Divock Origi the notable flops of the haul.
Yet, as supporters would find out at the midway point of the season, the window was not all a complete failure as the coup of Malick Thiaw proved to be Maldini's latest, and inevitably his last, gift to Milan's defensive core prior to his dismissal this summer.
Walking through the doors of Milanello from Schalke, the €5 million plus €2 million in bonuses dished out on the 21-year old was a textbook Milan signing indicative of the current times; project player with clear qualities and traits, albeit raw, that could translate at the next level.
These are the types of talents Chief Scout Geoffrey Moncada has made a career off, scouring far and wide, near and far for value. But with these, there is an emphasis on patience with the hopeful end product being a refined, first-teamer capable of making the difference.
On a cold, February night, Coach Stefano Pioli finally launched Thiaw into the mainstream, handing him his full UEFA Champions League debut at home in the club's first leg Round of 16 clash with Tottenham Hotspur.
It was underneath the bright lights of a capacity-crowd at San Siro in which supporters bore witness to all the Class of 2001 talent has to offer from the central defence in a tightly contested 1-0 victory; physicality, character and a much-needed imposing profile.
Standing tall at 1.94 metres (6 ft, 4 in), Thiaw's height is a refreshing sight to see roaming the back line amongst a supporting defensive on the smaller side.
Aerially, Thiaw works with controlled aggression and a calculated approach to preventing danger in the box, with a calm, reserved manner unfounded in most his age and limited top- flight experience.
In 2022/23, Thiaw averaged 3.26 aerials wins per 90, placing him in the 94th percentile amongst center backs (via fbref.com and Opta). Additionally, he executed 4.77 clearances, placing him in the 86th percentile.
These are two statistics that both validate his defensive prowess and show how well he stacks up against the field around Europe.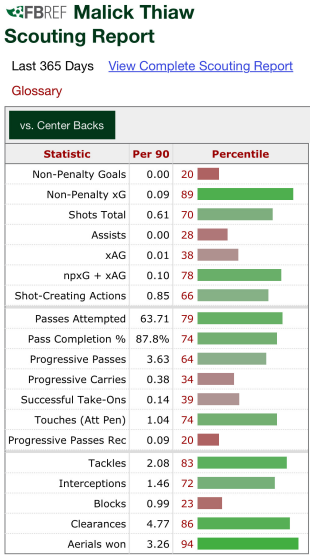 From a tackling standpoint, Thiaw does not rush to judgment. He demonstrates patience in identifying when he needs to execute the break-up, and how it is to be achieved, either going to ground or utilizing his length to poke the ball out or win it altogether.
Between his height and athletic build, the physical components are well in place for Thiaw to emerge a top-shelf defender in time. But the way he had developed from a positional sense and swiftly grew to understood the Italian game without many reps is a testament to his commitment as well as his preparation to be ready when called upon.
If we size up the competition for minutes in defence, Thiaw is projected to accrue a large share of the minutes, and a bulk of them coming as a starter. For all the growth of Fikayo Tomori and Pierre Kalulu these last few seasons, neither possess the sheer physical qualities of the German. Simon Kjaer is also on the back-end of his career and will be a limited fixture for Pioli to deploy.
When you consider how susceptible Milan have been to conceding from crosses and set piece situations, trotting out an undersized on regular occasions next season against some of the taller sides would be irresponsible of Pioli. For this reason alone, Thiaw is a fundamental player for next season in tidying up a very suspect defensive record and ensuring Milan return to a side who, along with a healthy Mike Maignan, can return to previous solidity we saw for better parts of the Scudetto push.